The Memphis Grizzlies sent Mike Conley to the Utah Jazz for Kyle Korver, Grayson Allen, Jae Crowder, the 23rd pick in tomorrow's draft, and a likely lottery pick next year. Utah has been looking for a better option at point guard after telling Ricky Rubio they would be looking elsewhere this summer. Rumors have been swirling since April about the Jazz interested in Conley, who will turn 32 right before next season. Who won the trade?
Winner: Mike Conley
The 4th pick in the 2007 NBA Draft, Conley has controlled the Grizzlies offense for the past several years and has seen dozens of guys run through the lineup year after year. He has been one of the most underrated leaders across the league, having one of his best years in 2018-2019 by averaging a career high in points, rebounds, and assists. Conley will get to play alongside veteran shooters and playmakers for one of the first times in his career. This includes Donovan Mitchell, Joe Ingles, and Rudy Gobert.
Winner: Memphis Grizzlies
Memphis is in complete rebuild mode and are looking to rehaul the entire lineup. They sent Gasol, a franchise player, away this season and struck gold when they got the #2 pick in the lottery. Ja Morant is the future for Memphis alongside Jaren Jackson who had an extremely productive rookie year. With this trade, the Grizzlies acquire pure shooter Kyle Korver and veteran Jae Crowder who can lead these young guys through the NBA. They also pick up Grayson Allen who could develop in to a strong bench presence this season. The Grizzlies will also be able to organize the future around Morant and Jackson with the two picks they acquired. They could look for a young center like Bruno Fernando with Utah's 23rd pick, and then draft another big time player with the lottery pick possibly next year.
Loser: Utah Jazz
Are you kidding me? Yes, Conley is a better all-around player than Rubio, but look who you're giving up! Korver can still knock down any shot, Crowder is a role player with a lot of experience, you're already giving up on Grayson Allen, and you give away two picks, one of which could be a big time player from the lottery. This trade is comparable to the Anthony Davis trade a few days ago, but AD is a far more dominant and younger player than Mike Conley. Utah fortunately still has a couple of stars to team up with Conley.
Winner: Ja Morant
Morant has practically been given the keys to the offense before he's even on the team. He won't be given so much blame for a lack of success this upcoming season as Memphis will be so extremely young. He'll be led by some legit veterans and the next couple of drafts will have the ability to team up with a couple of other first round talents. Morant will be able to move the ball wherever he pleases and really won't have to control the team with anyone else. The Grizzlies are clearly all in on the Murray State guard.
Loser: The Grizzlies bench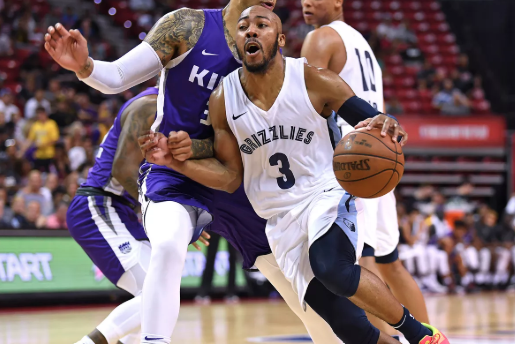 The Grizzlies will be forced to move some contracts around in order to make room for the talent coming their way. The three more players coming who will automatically be placed in to rotation for the Grizzlies will knock some of the players lower on the bench out of the lineup. I hope they opt to keep developing players like Jevon Carter, a defensive wall who has the ability to shoot when needed, rather than older veterans.