The College Football Playoff here, so it's time to break down each team involved, along with predictions from some of our college football writers.
Previews:
#1 LSU (13-0), SEC Champions
How they got here: After a massive bowl game from QB Joe Burrow against UCF last year, the Tigers started to get some much deserved recognition around the country. The offense started hot this year and never cooled off, despite matching up against some of the best defenses in the country in Alabama, Florida, and Auburn. The Tigers started with a dominant 27-0 win over BYU, followed by blowouts over smaller universities before a 66 point win over Vanderbilt at the start of SEC play. LSU then beat top 10 Florida by 14, an extremely good Auburn team, followed by a thriller in Tuscaloosa with a win over #2 ranked Alabama. Despite giving up 37 points to a poor Ole Miss team, the Tigers finished with a beatdown of 50-7 over Texas A&M and a 37-10 championship game win over #4 Georgia.
X- Factor: Head Coach Ed Orgeron. Coach O has quickly rose to fame in college football partly because of his unique voice but mostly from his actions of completely turning around the football program at LSU. This will be his first trip to the College Football Playoff and many question if he'll be able to prepare his team for a star studded offense at Oklahoma. Orgeron has proven time and time again that his team can match up with anyone, facing Texas early in the season, exposing a dominant Georgia defense, and tearing apart Alabama's secondary all day long on the road. If the Tigers can stop Jalen Hurts and CeeDee Lamb, they should be able to win this game with ease.
Biggest Mismatch: Oklahoma's DB's could be overmatched by LSU's receivers, but don't forget about the opposite in that receivers like CeeDee Lamb and Charleston Rambo could prove to be too much for LSU's secondary, which has been shaky at times. CeeDee Lamb could be the best receiver in the nation in the upcoming draft, and Rambo has consistently been one of the best out of the slot position for Oklahoma. Big 12 Offense vs SEC Defense is always fun to watch.
How they can win: Defense shuts down Oklahoma offense. Jalen Hurts has played phenomenal all year long for the Sooners, but LSU has been able to control Tua, Sam Ehlinger, and Jake Fromm throughout the season. If the Tigers are able to hold Oklahoma to under 30 points they shouldn't have a problem winning with how well their offense has played behind the heisman winner, Joe Burrow. It will be interesting to see if the Tigers can contain their potent offense in the second half with OU's experience from coming back against Kansas State (almost), and Baylor (twice).
#2 Ohio State (13-0), Big 10 Champions
How they got here: The Buckeyes have been dominant all season long, tearing down Big Ten opponents, winning by at least double digits in every one of their matchups this year. However, this comes as a shock to no one. They opened up the season with three out of conference wins against FAU, Cincinnati, and Miami (OH), with a win against the Hoosiers in Bloomington thrown into the mix. After that, they won six straight Big 10 matchups where they won by at least 24 points in each one. Then came their biggest challenges of the season against their two top rivals: Penn State and Michigan. Although they kept it close, the Nittany Lions could not prevail against the Buckeyes and dropped their third straight in the series. Michigan did not do any better, taking a big four possession-loss in what continues to be a disappointing run for Jim Harbaugh against the Wolverines' biggest enemy. The Big 10 Championship saw a matchup in which Ohio State had already seen this year. Wisconsin just upset Minnesota to advance to the game for the sixth time in school history, a conference record. The first half looked as if the Badgers were on their way to pulling off a big upset and giving the playoff committee something to think about. The score was 21-7 and Ohio State just looked lost. But, as the old saying goes, that's why they play four quarters. The second half was a completely different story, as sophomore quarterback Justin Fields led his team to 27 straight points, a Big 10 championship, and a spot in the College Football Playoff.
X-Factor: Jeff Okudah and Shaun Wade. A lot of people would go with Fields or stout defensive end Chase Young here, but I think the real difference maker in this one will be the two future NFL corners covering up Tee Higgins and Justyn Ross, and possibly the likes of Justin Jefferson, Ja'Marr Chase, and CeeDee Lamb. If these two can take away Trevor Lawrence's top targets, then he will struggle and begin to force throws and make mistakes. This will also allow Chase Young to put some pressure on Lawrence in the pocket.
Biggest Mismatch: Strength of Schedule. This was hard to decide because these teams seem to be so evenly matched. So, after analyzing the actual rosters of these teams and not finding much, I decided to see why Ohio State may have an advantage here. And it's simple. Clemson's SOS was 31st in the nation, while Ohio State finished first by the end of the year.
How they can win: Make minimal mistakes while forcing lots of mistakes. Clemson knows how to capitalize when teams make errors. Just ask Alabama. In order for Ohio State to win this game, they have to be perfect, or close to it. You cannot play a sloppy game against the Tigers and just expect to pass by. If they can get help from Young and the D-Line, along with a strong game from the secondary, the Buckeyes can be victorious against the defending champs.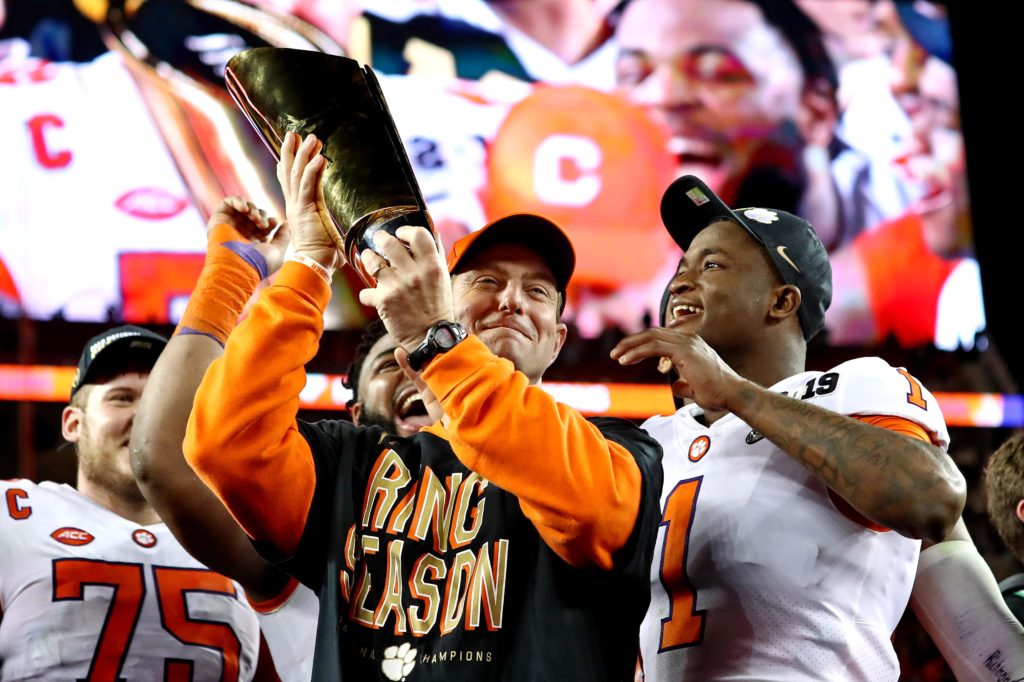 #3 Clemson (13-0) ACC Champions
How they got here: You'd think a team going in as the defending national champions riding a 28-game winning streak wouldn't do so very quietly. Funny how college football works sometimes. The Tigers went into the year as the No. 1 team in the country with little doubt they'd get a chance to defend their title. It was smooth sailing for Clemson until a 21-20 scare against North Carolina, a game they escaped thanks to a failed two-point conversion. Even though they won, a sense of doubt started to settle in leading to a drop to as low as No. 4 in the polls. Clemson was quick to prove those dounterts wrong, winning their remaining games by no less than 31 points, including a 62-17 win over Virginia in the ACC Championship Game.
Biggest X-Factors: For most of the year, J.K. Dobbins and Jonathan Taylor have often been referred to as the best running backs in the country, but Travis Etienne deserves to be in that conversation as well. The junior out of Louisiana ran for 1,500 yards and 17 touchdowns in the regular season all on just 182(!) carries. His ability to keep the ball moving will play a big role in helping Clemson's offense to open up and give them another dimension that makes them that much more dangerous in the playoffs.
Biggest Mismatch: Tee Higgins and Justyn Ross vs. Ohio State's Secondary.The Buckeyes can match Clemson at every position but this one. Though the Tigers haven't seen a team like the Buckeyes, it's Ohio State that hasn't seen receivers like the one's clemson has. With a combined 107 receptions for 1,824 yards and 21 touchdowns, Higgins and Ross will give the scarlet and gray's secondary, led by Jeff Okudah, a run for their money for a full 60 minutes.
How they can win: Win time of possession. Ohio State's offense is one of the best in the country, putting up great numbers against some of the better defenses in the country. Clemson's defense is no slouch, but if they want to really neutralize the Buckeyes' offense, the best way to do so is by keeping them off the field. Travis Etienne has the talent to keep the clock rolling and out of the hands of Fields and Dobbins. If they can do that, and keep throwing the ball the way they've been doing, that winning streak could go to 29 games.
#4 Oklahoma (12-1) Big 12 Champions
How they got here: After QB Jalen Hurts decided to transfer from Alabama to Oklahoma last spring, it seemed almost written in the stars for him to bring this Oklahoma team back to the College Football Playoff for a 3rd straight year. Lincoln Riley is quite possibly the best offensive coach in football, yes…football and he's done it again this year. After a shocking loss to Kansas State, Oklahoma beat Baylor twice, and found themselves in the #4 spot for a second straight year. But be assured this team is no joke and is a much more complete team than what we saw last year.
X-Factor: It's hard not to say Jalen Hurts here, the QB will be playing in his 4th straight college football playoff and his 7th game overall, he can handle this moment. BUT because of this he's not the guy I'm looking at. Linebacker Kenneth Murray is OU's X-factor in this one, the junior leads the team in tackles and has the ability to wreak havoc on any play. He had 10 tackles in the Big 10 championship vs. Baylor. If Murray can continue to dominate the line of scrimmage and make life uncomfortable for Joe Burrow and whatever running back takes the field with Clyde Edwards-Helaire's status now in doubt due to injury, Oklahoma can win this game.
Biggest Mismatch: The biggest mismatch of this game is LSU's Wide Receivers vs. Oklahoma's Cornerbacks. Oklahoma's secondary is much improved from a year ago, but still will struggle against the dynamic receiving threats on LSU's roster. Senior Parnell Motley will struggle against the size and speed of the LSU receivers like Justin Jefferson, 6'3" 192 lbs. to Motley's 6'0" 173 lbs. The key for Oklahoma's secondary will come from their front seven, if they can put pressure on Burrow it will make life easier on the defensive backs for Oklahoma.
How they can win: I truly feel with the experience on their side and Oklahoma win would not be shocking, the way I see them winning is scoring and stopping early if O.U. can jump out to an early lead, 14-0, 17-3 etc. I think their experience with Jalen Hurts and co, will lead them to victory. If they can make Joe Burrow uncomfortable early and often, they can win this game. OU has a lot on their side, they're coming in healthy, with a bit of a chip on their shoulder after last year, and they're out to prove that was a fluke. Lincoln Riley could potentially be coaching his last few games at OU, with the likelihood of the Dallas Cowboys job seemingly opening up, so Oklahoma will want to do anything and everything they can to make him stay, a national championship would go a long way.
1st Round Predictions:
Zach Wylie: (Ohio State 42, Clemson 38) (LSU 45, Oklahoma 31)
Aaron Greenberg: (Clemson 35, Ohio State 31) (LSU 41, Oklahoma 31)
James Murphy: (Ohio State 31, Clemson 26) (LSU 44, Oklahoma 31)
Ryan Miller: (Ohio State 28, Clemson 21) (LSU 40, Oklahoma 24)