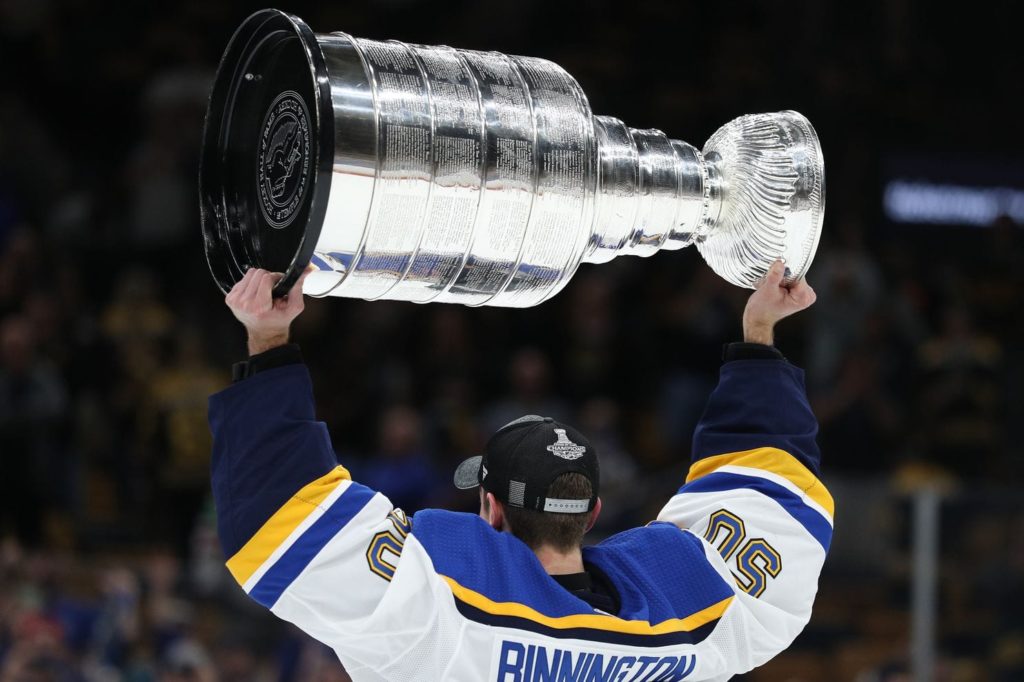 The Blues re-up their Stanley Cup winning goalie to a 2- year, $8.8-million-dollar contract.
After a tremendous streak of play resulting in a Stanley Cup championship, goaltender Jordan Binnington has been rewarded. On Saturday night the St. Louis Blues announced they have re-signed the recently turned 26-year-old Binnington (birthday was July 11th) to a two year, $8.8-million-dollar contract. What a birthday present! In speaking about the extension, General Manager of the Blues Doug Armstrong seemed very happy to get Binnington locked up for the next two seasons. "We are pleased to have Jordan signed for two more years. His play was outstanding and we look forward to seeing him continue to be a major contributor to our team."
Binnington was also pretty happy with his new contract and let the city of St. Louis know how much he appreciated the continued support. "To the city of St. Louis, thank you for welcoming me in and trusting me to do me. I'm excited and motivated to keep doing my job and keep brining success to the St. Louis Blues Organization."
The Blues clearly wanted to get this done somewhat fast as the situation didn't drag out for a long time. Both sides seemed to reach an agreement seemingly without any sort of issues in negotiations as well. This is something that I found a bit surprising. Personally, I thought Binnington would want more money coming off the heels of a Stanley Cup victory. He definitely could have justified getting more money. However, the Blues definitely did not want to go that route in fear that Binnington could be a one hit wonder.
That is why I think this is a great contract for both sides. It is extremely fair. Binnignton definitely wanted to stay in St. Louis and with signing for two years for a fair AAV of $4.4 million, he gets paid and has a chance to show the Blues he isn't a flash in the pan. Binnington put up outstanding numbers last season. After taking the starting goaltender position in January, Binnington went an outstanding 24-5-1 while posting a .927 save percentage and a stingy 1.89 GAA. In the playoffs he continued to shine. He went 16-10 with a .914 save percentage and a 2.46 GAA leading the Blues to their first Stanley Cup. Bennington was certainly deserving of a new deal.
St. Louis understandably want more of a sample size from Binnington, as both the term and dollar amount seems to work really well for them. This is the definition of a "Show Me" contract. If Binnington continues to produce at an elite level over the next two seasons, then he will get PAID big time. The Blues would be more than happy to do that if he indeed continues his elite play.
This was a fair contract for both sides as I look forward to seeing if Binnington is indeed "for real" and continues to play an outstanding level of net minding.