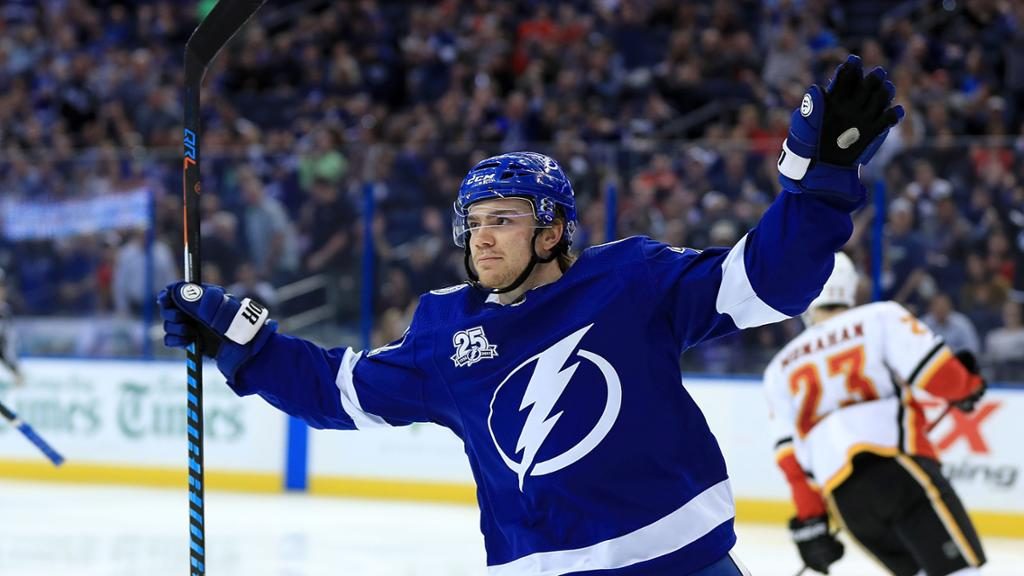 The 2014 NHL Entry Draft saw a lot of talent selected that now are stars on their respective NHL teams. However, some General Managers struck out on their picks and definitely would love nothing more than to have a do over. Well, unfortunately for them there is no do overs, but there is the world of fantasy hypotheticals. So in that case I decided to redraft the top ten from the 2014 NHL Entry Draft. Boy am I glad I'm not a GM.
#1. Florida Panthers Select – Brayden Point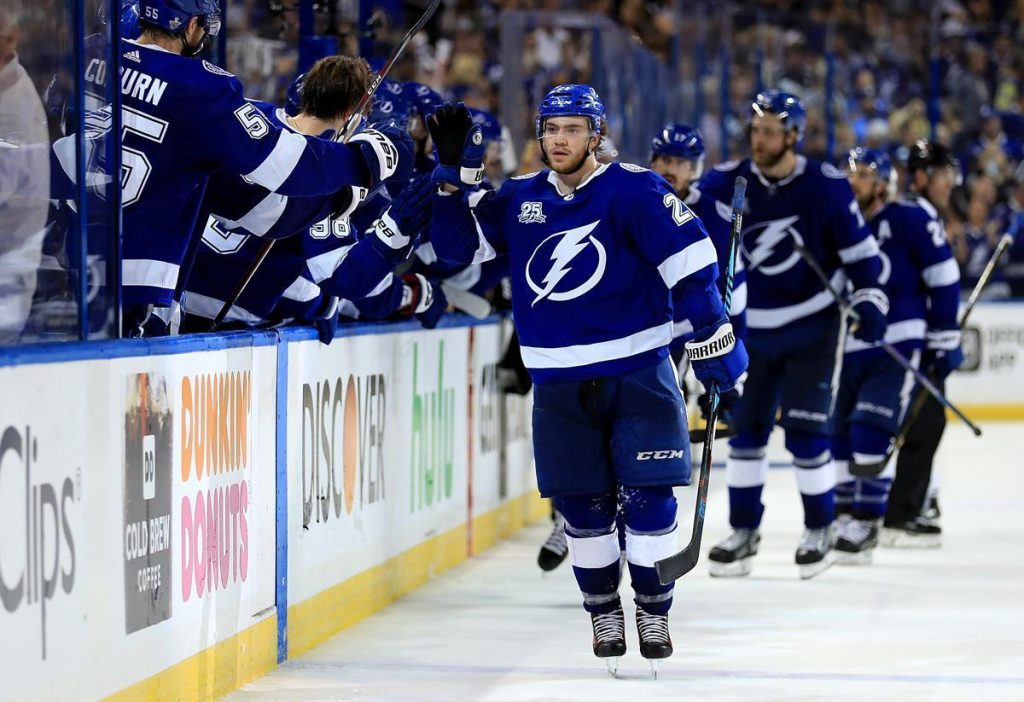 (Original Selection: Aaron Ekblad)
At this point in time Brayden Point is in my opinion, the best player from the 2014 NHL Entry Draft. If you were to tell General Manager of the Florida Panthers Dale Tallon this back in 2014 he probably would have laughed at you. That's because Point, was an undersized late third round pick who ended up being drafted 79th overall by Tampa Bay. No one saw this coming. After a 32 goal, 66-point year in the 2017-18 season, Point followed it up with a career high 92 point (41 G, 51 A) campaign in 2018-19.
Now for the original selection, the Panthers still made a great pick in Aaron Ekblad who has become their cornerstone franchise defenseman. Those are so hard to find and every Stanley Cup champion from the past several years has had one. However, Ekblad has not been the best player from his draft, but you will see him not too far away from number one on this list and rightfully so. He's a great player too, but Brayden Point has been better and is a heck of a story.
#2. Buffalo Sabres Select – David Pastrnak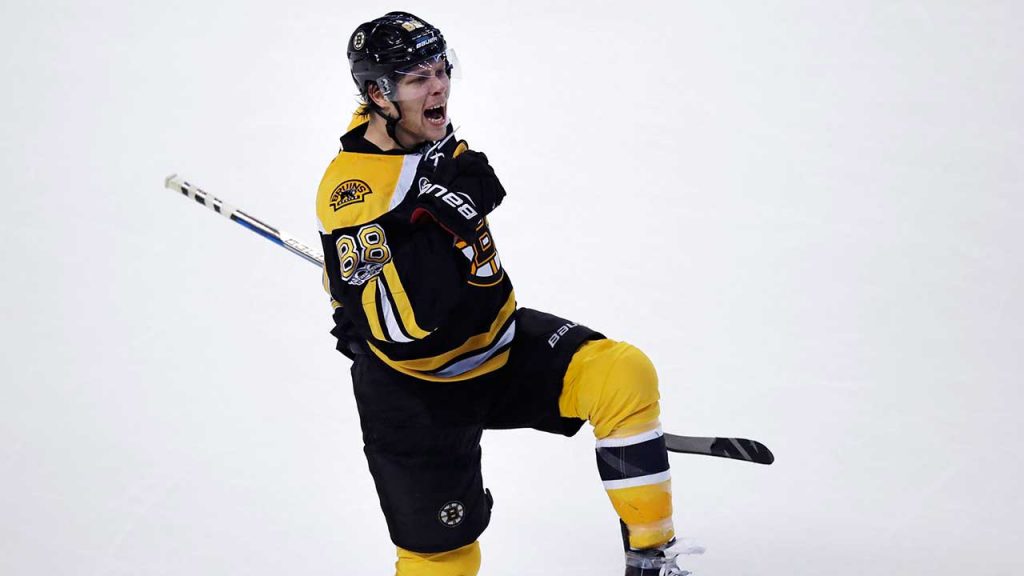 (Original Selection: Sam Reinhart)
It was a tough decision on this one between Pastrnak and the player who will be selected number three on this list, but I went with Pastrnak. He's another guy who has moved way up in this draft as he was originally selected 25th overall by the Boston Bruins. Pastrnak has incredible playmaking abilities and he has been showing it on a very consistent basis for three seasons now. Last season Pastrnak had his third straight 30-plus goal season as he had 38 goals and 43 assists for 81 points in just 66 games played. Pastrnak when healthy can be a threat to score 40-50 goals. He was on pace for maybe 50 before getting injured last season.
Now for the original selection, Sam Reinhart will definitely be in this top ten list, but he is not second overall worthy. He is however, really coming into his own the past two seasons. He posted 50 points in 2017-18 and followed it up with a 65 point season (22 G, 43A) last year. Not bad at all, but Pastrnak simply has been better and more prolific offensively.
#3. Edmonton Oilers Select – Leon Draisaitl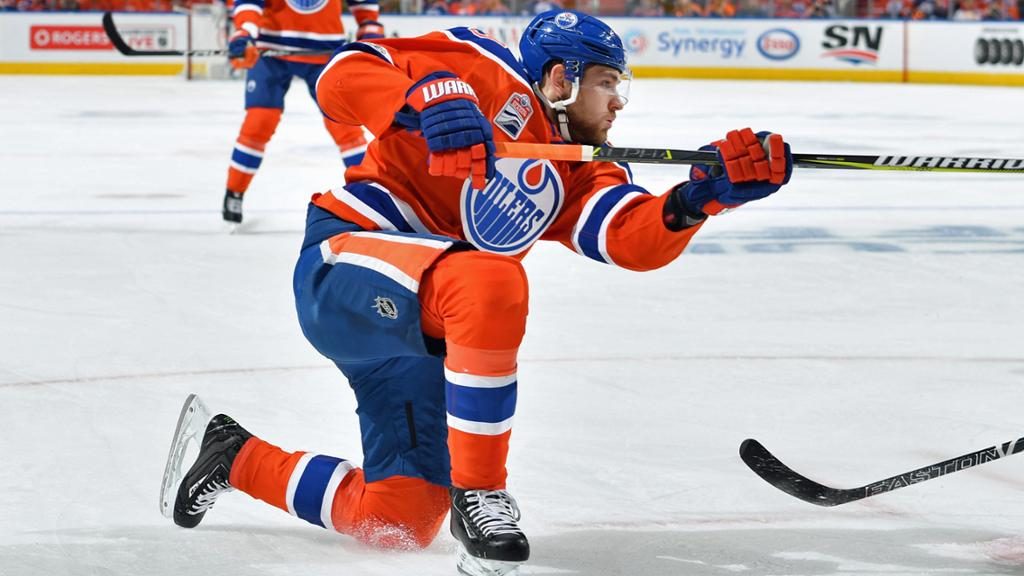 (Original Selection: Leon Draisaitl)
This is hilarious, because this means the Oilers didn't bomb on a first round pick. They end up still getting a great player in Leon Draisaitl who has definitely lived up to his third overall pick billing. Draisaitl has been one of the most consistent Oilers since arriving in Edmonton (outside #97). He is locked in for 90 points every season now after having a career high in points last season with 105. In that 105 points were 50 goals for the German forward, which is a big leap from his former career high of 29. This new found goal scoring touch adds just another element to a growing elite talent. The one concern for Draisaitl is becoming a true center. So far in his career he hasn't been able to get off Connor McDavid's wing and be a center behind McDavid consistently. The hope is eventually he can become that guy so Edmonton can have a Sid and Geno type 1-2 punch down the middle. In saying all of this, for the Oilers this ended up being a great pick all around.
#4. Calgary Flames Select – Dylan Larkin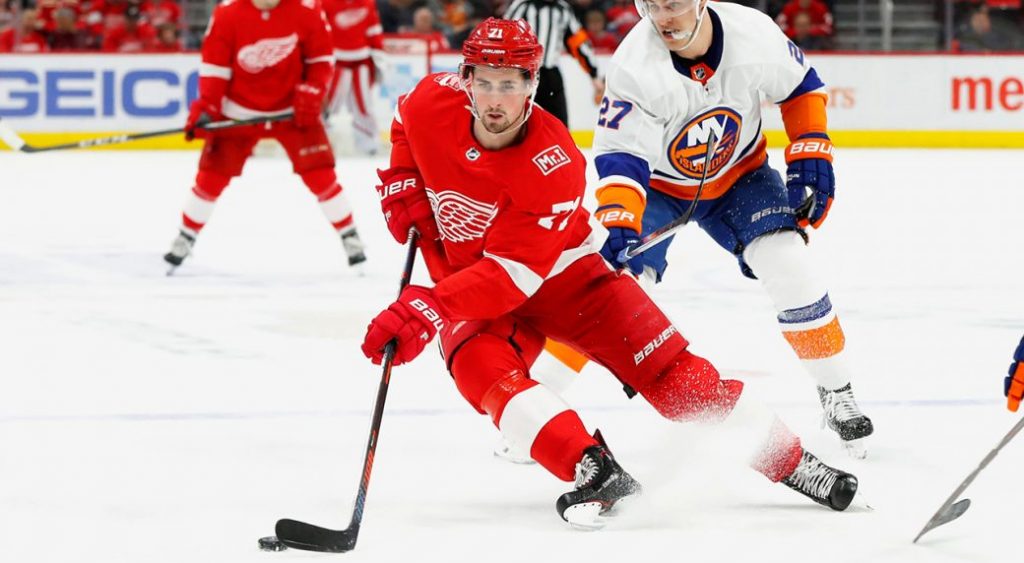 (Original Selection: Sam Bennett)
This is a pick Calgary wants back for sure. Dylan Larkin has turned into a really great player after originally being selected 15th overall by the Detroit Red Wings. He had 63 points in 2017-18 and improved upon that in 2018-19 with a career high 73 points and 32 goals.
Now for the original selection, Sam Bennett has been a good pro, but not nearly what Calgary originally expected. He was a great scorer in junior, but it just hasn't transitioned to the NHL level. It's crazy that he was originally pegged to possibly go first overall in that draft. That was before the whole pull up controversy where Bennett couldn't do a single pull up in the draft combine. That was a very overplayed media creation, but still wasn't the best look for him.
#5. New York Islanders Select – Aaron Ekblad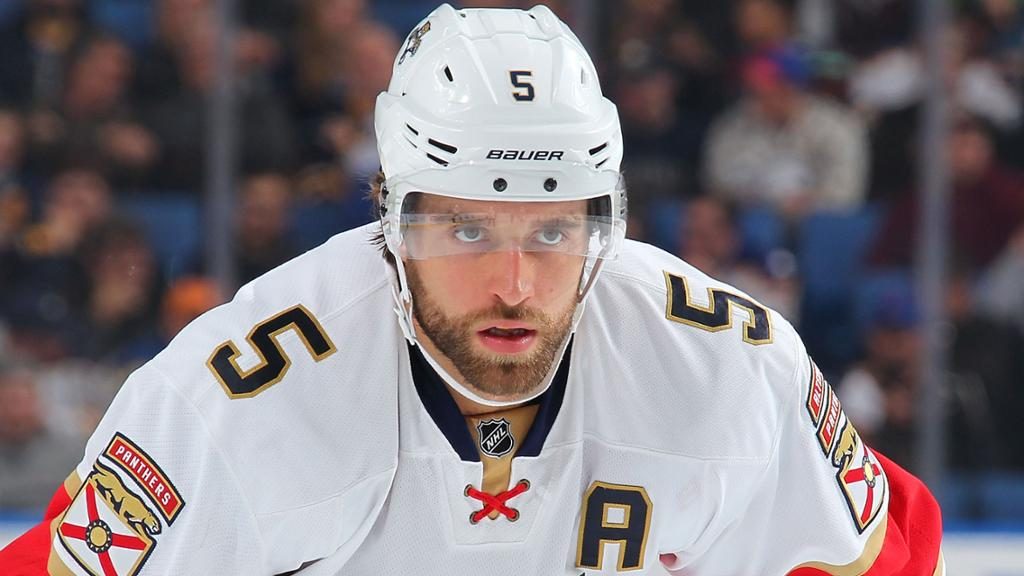 (Original Selection: Michael Dal Colle)
Just like with Calgary, the Islanders definitely wish they could have gotten a re-do with this pick. Some may argue Ekblad should have been a bit higher in this list, but the offensive upside of the players ahead of him was just too great for him to overcome in my opinion. Ekblad is the first player I have to fall from his first overall selection down to number five. However, this doesn't discredit him in the slightest. Ekblad has been great in the NHL and is a franchise defenseman. The Islanders would be salivating to be back at number five in 2014 and see Ekblad available.
However, that was not the case as the Islanders instead selected Michael Dal Colle. Now Dal Colle has not been at all what the Islanders expected. He just made his NHL debut last year and just scored his first NHL goal three days ago. At 22 years old. Listen some say he may be a late bloomer, I ain't buying it. Hopefully, for the Islanders that is the first of many in his career. For now though, this pick has been the worst one of all the original selections thus far and its no wonder Garth Snow lost his job.
#6. Vancouver Canucks Select – William Nylander
(Original Selection: Jake Virtanen)
William Nylander had a terrible season after holding out for a large portion of the 2018-19 season, but he still is one of the best players from this draft. He was originally selected two spots later at 8th overall to Toronto, but I think his 60-point production and 80-point potential has him up to sixth overall to the Canucks.
This is the third straight pick where the team struck out on their pick and in this case it was the Canucks. Jake Virtanen has been very similar to Sam Bennett in regards to production. He is getting better and producing more, but not nearly at the rate the Canucks were hoping.
#7. Carolina Hurricanes Select – Nikolaj Ehlers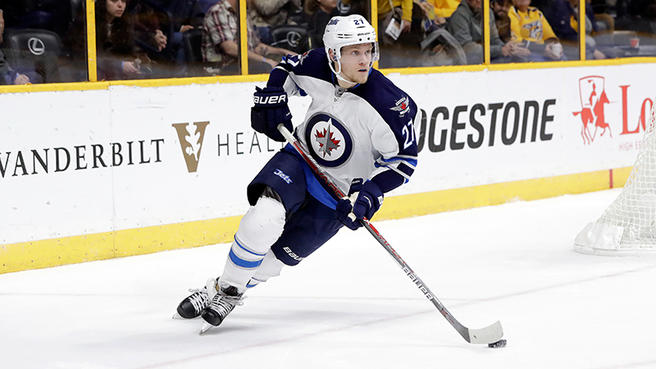 (Original Selection: Haydn Fleury)
I have to say it again don't envy any of the General Managers in the NHL. This is the fourth straight pick where the franchise has struck out on their first round pick. Nilolaj Ehlers is in a similar position to William Nylander. He was originally drafted 9th overall to Winnipeg and I have him moving up two spot to seven. Ehlers has been a consistent 60-point scorer for the Jets and has been a strong contributor to the team's success.
Haydn Fleury who was originally selected 7th overall has been up in down from the minors in his career (was just called up again to Carolina today coincidently). Defenseman do take awhile to develop, however its almost been five years. We'll see if Fleury turns it around, but I doubt it at this rate.
#8. Toronto Maple Leafs Select – Sam Reinhart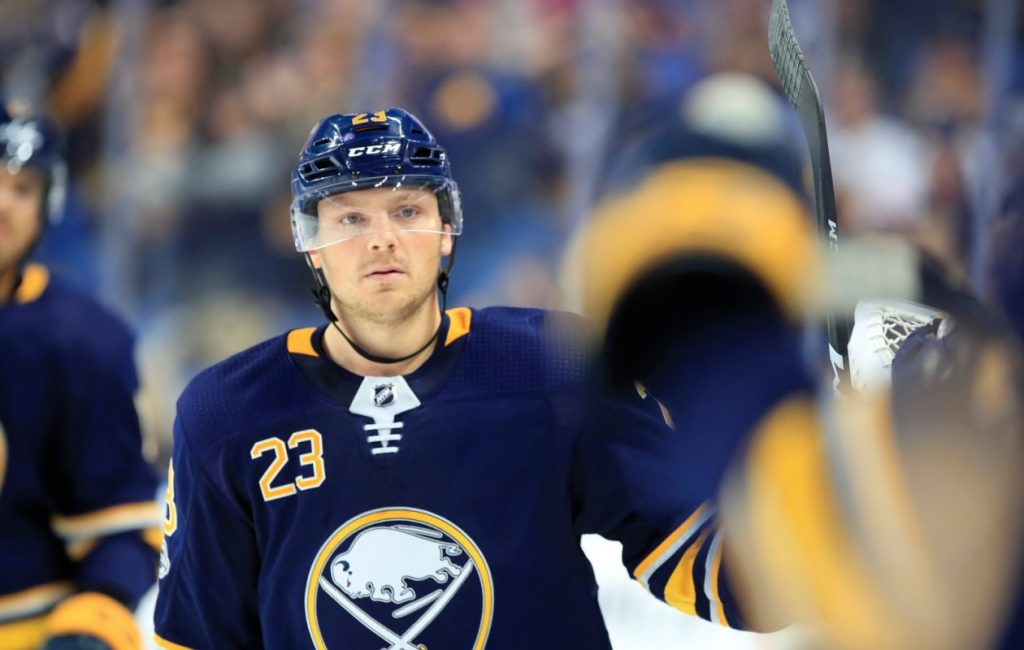 (Original Selection: William Nylander)
I talked about Sam Reinhart earlier and I think he is a top ten selection in this draft. He just isn't second overall worthy, which is where he was selected by Buffalo. Reinhart has been getting better and better each year and I expect that to continue.
#9. Winnipeg Jets Select – Alex Tuch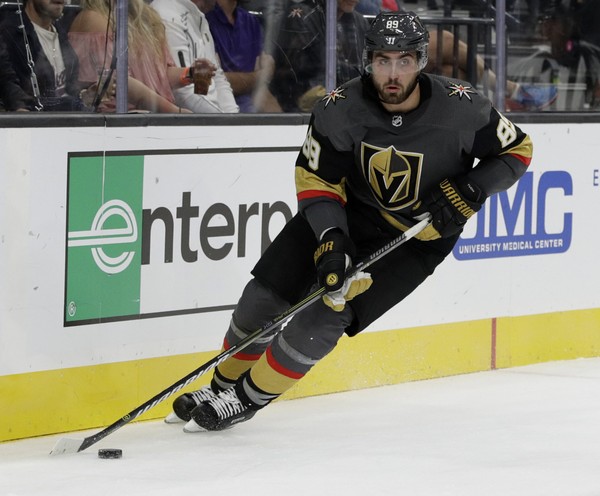 (Original Selection: Nikolaj Ehlers)
Tuch was originally drafted 18th overall by the Wild in this draft, but was lost to Vegas in the expansion draft. He has been tremendous since arriving in Vegas as he had 15 goals and 37 points in his first full NHL season. Tuch followed that up with an even better 2nd season in Vegas as he potted 20 goals and 32 assists for 52 points. Winnipeg should be happy they picked Ehlers, but if he would have already been taken then Tuch would have been a great choice too.
#10. Anaheim Ducks Select – Kevin Fiala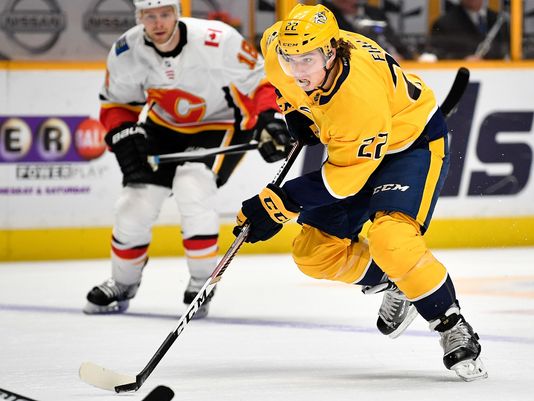 (Original Selection: Nick Ritchie)
Kevin Fiala has been a solid role player in his NHL career this far for both the Predators and the Wild. He had 23 goals and 48 points in the 2017-18 season. In 2018-19 Fiala was apart of trade that saw him go to the Minnesota Wild for Mikael Granlund. Although Fiala had only 39 points last season he still has a chance to be the player we saw back in the Predators 2017 Cup run and in 2017-18. We will see if he gets back to that level as the 2019-20 season begins.
Nick Ritchie on the other hand was not a bad pick at all for Anaheim. He's starting to come into his own after a 28 and 27-point season respectively Ritchie has 21 points in 34 games.