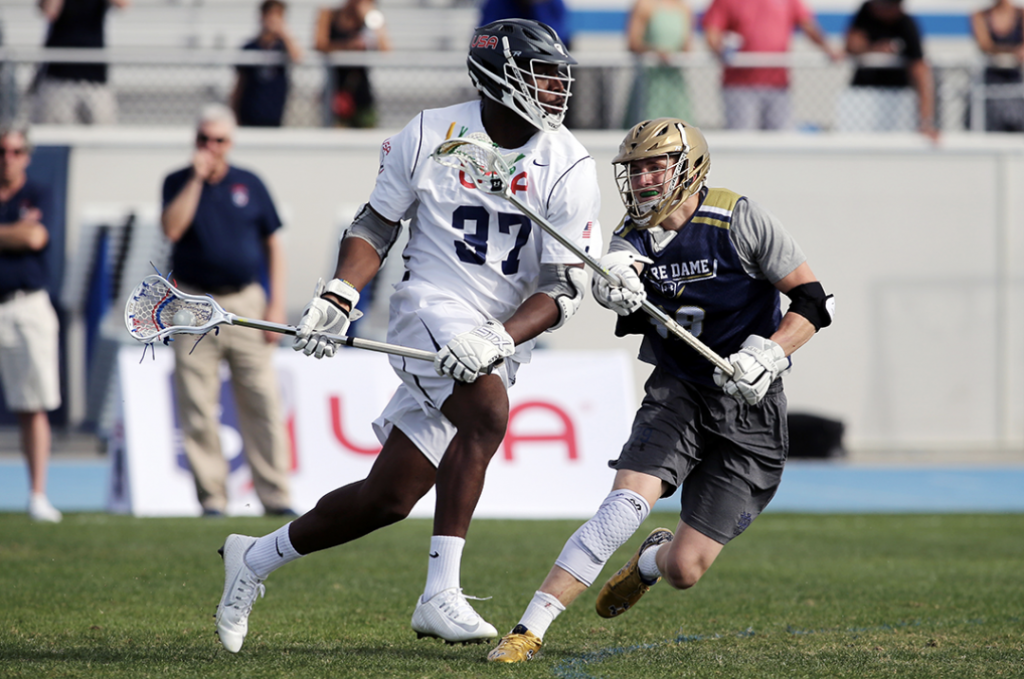 Every sport has its guy.
You know who it is, I know who it is, everyone knows who it is.
You know, the superstar who becomes the face of the sport for an entire generation of fans. Currently, basketball has Lebron, soccer has Messi, baseball has Mike Trout, and hockey has Sidney Crosby.
What all of those athletes have in common is that at one point during their career they have been looked at by the media and the fans as the best player at their sport. You see these names all the time on flagship programs such as ESPN because they provide non-stop content and highlight reels due to their ridiculous talent. Thus, this is why all four of those guys at one point during their career have been considered "The Face of (Insert Sport Here)."
But for all that Lebron, Crosby, Trout, and Messi have done for their respective sports, there is one athlete who is about to do more for his sport than any other athlete in history.
The name of that athlete?
His name is Paul Pierce Paul Rabil.
Paul Rabil?
Don't have any clue who that is? Don't feel alone, he may not be a household name yet, but soon he will be. The reason he's not is that the sport of lacrosse did a horrible job at marketing the MLL and reaching an audience what was unfamiliar with the game. He is one of the most dominant athletes the sport has ever seen, and no one knows about him. Oh, and he also happens to be the first millionaire in lacrosse history; not bad for a guy that played in the MLL whose average salaries were around $15,000.
Rabil is trying to get lacrosse to be a more prominent and more prevalent sport. He is a former Johns Hopkins Lacrosse standout who had one of the most decorated college careers of any former lacrosse player. He finished his career at Johns Hopkins as a 2X National Champion, 3X First-Team All-American, McLaughlin Award Winner (Top Midfielder in the Nation) and, finished his career at Hopkins as the school's all-time leader for goals and points as a midfielder.

But, he didn't stop there, Rabil went on to be drafted #1 by the Boston Cannons in the 2008 Major League Lacrosse (MLL) Draft. He went onto to earn 10 All-Star game appearances, 2X Steinfeld Champion (Super Bowl of MLL) and a 2X MVP. He also played in the NLL which is an indoor lacrosse league, indoor lacrosse calls for more stick skills, more creative play, quick and, accurate on the smaller goal. Canadians dominate the indoor lacrosse game and are known for taking their powers from the indoor game and using it to their advantage in outdoor lacrosse.
For those of you who know nothing about lacrosse it's a combination of a bunch of sports which is what I love about it.
It's got the toughness and physicality that people love about football:
You have indoor lacrosse, where players refine their stick skills and play extremely creative, just like hockey players have to be creative on the ice in close space:
The jumping and crazy ally oops that you see in basketball:
Check out this fake, who doesn't love a little Tom Foolery:
So, that's a little taste of what lacrosse is like; it's a combination of all sports. It's fast-paced, creative, competitive and extremely fun to watch as well as play. The weirdest part about lacrosse is that it's been around FOREVER and still, so many people don't know about it, I mean it was played by the fricken Native Americans. Only in the last 20 years has lacrosse gained notoriety as being the fastest growing sport in the nation.
Quite frankly, the reason the sport has failed for so long has been because of its popularity in regions such as the East coast. Major League Lacrosse failed in helping the sport grow to its full potential; it played its games on the lacrosse sports network which only die-hard lacrosse fans would have access to, College Lacrosse has better exposure on ESPNU than the professional league does, in what other sport does that happen? The MLL paid its athlete's stingy salaries of around $10,000 – $20,000 which forced them to have two jobs and travel on the weekend. The result of the league's negligence to provide reasonable salaries led to some of the best players in the game retiring because it became too egregious. The MLL games were being played during the summer, with teams located in different cities around the country as they played a regular season and postseason schedule.
The oblivious negligence by Major League Lacrosse for the past 20 years to not grow lacrosse and capitalize on the prestigious opportunity to make lacrosse the next big sport like hockey is the reason Paul Rabil is making history.
Paul Rabil is about to do more for the sport of lacrosse than any other athlete in sports history.
Yeah, you read that right, re-read it if you need to: Paul Rabil is about to do more for the sport of lacrosse than any other athlete in sports history.

Rabil, one of the most accomplished, decorated and talented lacrosse players to ever play the game left the only active professional outdoor lacrosse league to start his league whose focal point is for the well-being of players as well as to grow the game of Lacrosse.

The MLL rejected the player's concerns with where the league was growing as the league's attendance started to decline steadily and wasn't concerned for the players' well-being. With that said, Rabil is a millennial who understands the impact of the internet, social media and television on an audience. Not only is he a fantastic player but also, he used his Johns Hopkins degree for business ventures as well. In the past couple of years, Rabil won awards the Most Tech-Savy Athlete of 2017, and Top 40 Most Entrepreneurial Athletes.
In September of 2018, Rabil with his brother Mike, decided to co-found the Premier Lacrosse League which immediately started a rivalry with his former league, Major League Lacrosse. But, already the Premier Lacrosse League has locked up the best players in the world and stolen players from the MLL, who recently announced that three teams had to fold, contracting the league from 9 to 6 franchises.
Now, if you're wondering what makes this league different? How will it help the game? Just check out what Rabil is doing it's insane. He gathered investors from Wall Street to pitch his idea, as some people may guess Wall Street has a profound number of former lacrosse players in their community. The Rabil's were allowed to lure in The Chernin Group, the majority owner in Barstool Sports, the Raine Group, Blum Capital, Creative Artists Agency (CAA), and Joe Tsai, chairman of Alibaba part owner of the Brooklyn Nets as well as an avid Yale lacrosse fan.
In its inaugural season, the PLL (Premier Lacrosse League) will consist of six teams with 26 men on each roster. The players that left the MLL did so because now, the PLL will be treating its players as professional athletes paying them a minimum salary of $25,000 (compared to the minimum wage of $10,000 in MLL), players now have health care and can care for their bodies as well as train year-round to be the best athletes they can. A cool feature the players have as well is that they are the owners, meaning they get league equity which gives them incentives to grow the league, the more the league grows, which will result in a very lucrative return for the players.
Opposed to targeting a specific city or market as the MLL did, the league will focus on a tour method that will hit 12 major market cities. It will have 10 regular season weekends, 1 All-Star weekend and 3 playoff weekends, running from its first weekend on June 1st until September 21st. Another great feature of the league is that it will not overlap with the NCAA or NLL (indoor lacrosse) seasons, which will promote the growth of the sport.
Rabil located the PLL headquarters in Los Angeles to set up shop in an untraditional region where lacrosse is played. He also knew that the ESPYs is situated in LA every summer, where the worlds biggest sports stars gather to relax, have fun and enjoy some laughs. He used his big thinking brain to set up his leagues All-Star weekend the same weekend as the ESPYs so the worlds biggest sports stars could check out his new league and the sport of lacrosse which I think was a brilliant idea.
140 players announced by October that they had signed with the PLL, 86 were All-Americans, 25 were on Team USA, 10 former Tewaarton Award Winners (Heisman for Lacrosse). Instead of airing their games on The Lacrosse Network, Rabil used his brain and thought, "how can we get the random Joe from Iowa to tune into our games?" The answer to that was a partnership with a fantastic NBC broadcast group that will allow for the worlds top players to showcase their talents on NBC Sports network every weekend in the summer which along with the touring based model allows for the game to gain exposure around the nation. The playoffs are going to air on NBC which will be a massive weekend for the sport of lacrosse to gain notoriety.
The players will have equity in the league which no other professional league in the country does. They will also have access in docu-series and programming which will allow it's players to share their stories, which in return will help the league grow faster because it will enable players to share their voices, stories, stats and highlights across all social media platforms.
Look at this access fans have to their favorite players through the PLL's vlog series which gives an inside look at the players, their interests and hobbies.
Addidas announced its partnership with the Premier Lacrosse League in the fall so that Adidas will provide footwear and apparel for the athletes.
The Premier Lacrosse League has been effectively using social media to its advantage as well. The league would randomly announce over social media which cities were hosting them for a weekend.
For the full schedule check it out here:
On tour, the Premier Lacrosse Academy will also be taking place over the same weekend, which will allow kids who are just learning about the sport of lacrosse to learn from the worlds very best players and will provide a unique learning experience for the next generation lacrosse players.
When the PLL announced the lacrosse clubs rosters, they used players Snapchat bitmojis, to announce which teams they were on and the players posted it all over their social media also, it was an incredibly unique and creative way for the league to announce its rosters.
Last week, the PLL had its College Draft which aired on NBC Sports just after a playoff hockey game, people were able to watch or at least tuned into the draft.
They have been killing it on social media, which I think will contribute significantly to the growth of the league, they announce everything all-over social media platforms, which will assist them in gaining exposure.
I'm beyond excited for the players, fans, and coaches but, I'm way happier for the sport of lacrosse. It's been the fastest growing sport for 20 years but has remained stagnant in its progress to gain recognition as a professional sport. The game of lacrosse is beyond grateful for Paul Rabil for being brave enough to take a risk at starting a new league, with all that said I believe this league will be extremely excited. I'm stoked to check out some games this summer and know that I will 100% be watching on TV during the weekends.
I hope you guys can see why I'm so excited for this league to start and why I genuinely believe the formation of the Premier Lacrosse League will be considered a turning point in the history of lacrosse. With people finding baseball too slow and parents worried about their kids getting concussions in football, it seems like the perfect time for lacrosse to jump into the spotlight. My prediction is that over the years we will see Lacrosse gain recognition along the lines of hockey and will take the country over by storm.
Lacrosse has a terrible stereotype for being "Lax Bros" like my buddy Brantford Winstonworth.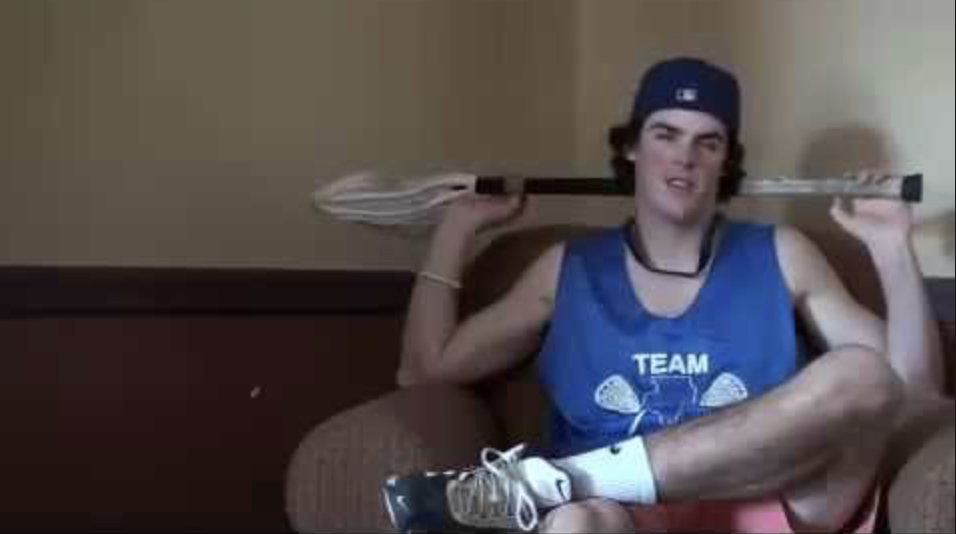 Yet really, it contains hard hits, fast-pace environment, ridiculous shots and plays like this one:
I hope you guys start taking lacrosse more seriously, because the PLL is here to stay, and if you like it or not, the Rabil brothers are taking advantage of an incredible opportunity of taking lacrosse to an elite stage. They have an equal opportunistic league in the WPLL also, which is a professional lacrosse league for women, given the same format as men. The benefits they are providing the players, the connection fans will have with players, network deals, investments, PLL Acadamey, tour-based league and activity on social media will all coexist in helping the PLL reach the moon.
Make sure to check out the Premier Lacrosse League this summer, starting June 1.
Follow me on Twitter for more: @mctweeetin