We are less than a week away from the Tip-off of the NBA season, so it is important to know where everyone stands at their respective positions. Although the NBA has started to shift towards positionless basketball, players will still be placed at their primary positions based off of their player profiles. 
Point Guard: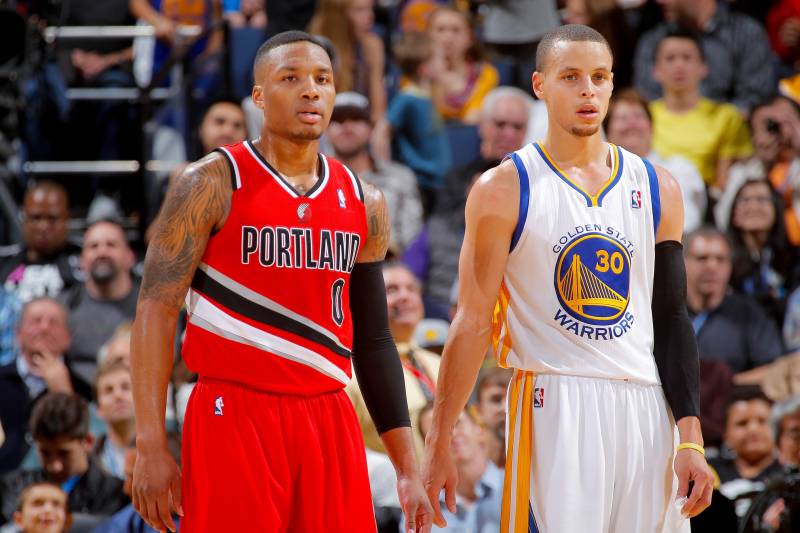 Steph Curry
Ben Simmons
Damian Lillard
Russell Westbrook
Kyrie Irving
The point guard position in the NBA as been up for debate for a long time, but it is hard to argue with the 2-time MVP and 3-time champ, Steph Curry being the best in the league. Ben Simmons may be a controversial pick, but he is an elite playmaker and can get to the basket at will. If Simmons can develop a consistent jumper, he might become the most dominant point guard the league has seen since Magic Johnson. Damian Lillard has long been underrated by everyone, but in the playoffs, he showed the world what he is made of. By eliminating the Thunder, some say he single-handedly dismantled their entire roster. Lillard can knock down a shot from anywhere on the floor and share the sugar with his teammates as well. Russell Westbrook was traded to Houston this offseason, and he looks average a triple-double for the fourth straight season. Some may call him a stat padder, but Westbrook has been dominating the point guard position for nearly a decade. Kyrie Irving's antics in Boston caused him to slide down the list. If he can lead the Nets to the playoffs without KD, he might find himself higher up on the list by the end of the season. Irving is extremely talented and exciting to watch, but he hasn't been very successful in his career without LeBron James leading him.
Shooting Guard:
James Harden
Bradley Beal
Klay Thompson
Jimmy Butler
Devin Booker
Although James Harden has spent much of the last 2 seasons running the one, with the addition of Russell Westbrook, it makes sense for Harden to slide back over to Shooting Guard for the majority of the time. Bradley Beal is consistently one of the most underrated players in the league, and this year he has a chance to carry the Wizards on his own and show everyone the star that he truly is. Klay Thompson, the second splash brother, is expected to miss some time due to injury to start the season, but he has consistently been one of the best two-way shooting guards the league has seen. When healthy, Thompson is a mismatch on offense and defense. Jimmy Butler took a risk by signing with Miami, but he also has an opportunity to ball out on his own stage. He is both tenacious and clutch, which makes him a great option at the two. Devin Booker is only 22 years old, but averaged 26.6 ppg last season for the Suns. His ability to put the ball in the basket, makes him one of the most dangerous threats to score from anywhere.
Small Forward:
Giannis Antetokounmpo
Lebron James
Kawhi Leonard
Kevin Durant
Paul George
Giannis Antetokounmpo may have taken the reigns of the league away from LeBron last season by winning MVP and bringing the Bucks on a deep playoff run. If he develops a jump shot, he will easily become the best player in the league. LeBron James is no slouch either. Entering his 17th season, and second with the Lakers, LeBron has shown that he is still in great shape and still completely dominant. Kawhi Leonard's stock rose heavily as he carried the Raptors to their first championship in franchise history. Leonard then went on the sign with the Clippers, where it's unsure which position he'll actually play, but since he's been a small forward his whole career, this is where he's placed. Kevin Durant ruined the lives of millions of Knicks fans by signing with the Nets this summer, but he is without-a-doubt, one of the most talented scorers in NBA history. It is unclear if he will play or not this season, but nevertheless, Durant is an All-World talent and deserves to be on this list. Paul George is also scheduled to miss some time to start this season, but he is still an elite player at the small forward position. George averaged a career high 28 ppg last season, and then he took his talents to LA to team up with Kawhi on the Clippers.
Power Forward:
Anthony Davis
LaMarcus Aldridge
Draymond Green
Blake Griffin
Pascal Siakam
Anthony Davis took his talents to Los Angeles this summer when he was traded from the Pelicans to pair up with LeBron James. Davis is an All-NBA talent, and arguably still hasn't even reached his peak. If healthy, Davis will easily remain the best power forward in the NBA at the end of the season. LaMarcus Aldridge has always been an under the radar star. Paired with DeMar Derozan in San Antonio, Aldridge has another chance to lead the Spurs to a playoff berth. Draymond Green is basically a point-forward. He does everything for the Warriors, and his role will only increase this year with the injury to Klay Thompson and the loss of Kevin Durant in free agency. Green will always provide playmaking and a high energy on both ends of the floor for Golden State. Blake Griffin has had a much lower profile since his trade to the Pistons, but that hasn't stopped his production and evolution. Griffin averaged 24.5 points, 7.5 rebounds, and 5.4 assists per game last season, while also developing his outside jump shot and becoming a better leader. The Pistons have a chance to sneak into the playoffs this season, and Blake will do his best to lead them there. Pascal Siakam burst on the scene last season in Toronto. As last season's Most Improved Player, Siakam has a chance to take over the Raptors and prove that his impressive 2018-19 campaign was anything but a fluke.
Center:
Joel Embiid
Nikola Jokic
Karl Anthony-Towns
Rudy Gobert
Nikola Vucevic
Joel Embiid has fought with injuries his entire career, but if healthy, he is easily the most dominant Center in the league. Embiid can space the floor, post-up anyone, and defend the rim seemingly with ease. Experts have Embiid as a future MVP of the league if he can stay on the court. Nikola Jokic is one of the most fun players to watch in the league. His dazzling passes, crazy finishes, and overall demeanor make him a star big-man coming into the season. The Nuggets were extremely successful last season, and with Jokic's expected growth, they have a chance to be a top seed again. Karl Anthony-Towns is undoubtedly a talented player, but the Timberwolves have consistently struggled to win games. Even still, Towns provides the Wolves with instant offense and at least average defense. Speaking of defense, Rudy Gobert is an elite defender. The two-time defending Defensive Player of the Year locks down the paint in Utah year after year. Gobert is again, trying to help Utah make a big jump in the playoffs this season. With the addition of Mike Conley, expect Gobert to get a lot of easy buckets off of the pick and roll. Nikola Vucevic is one of the least talked about stars in the league, but he is still an elite center. Vucevic averaged 20 and 10 last season for the Magic, leading them to the eighth seed in the Eastern Conference.