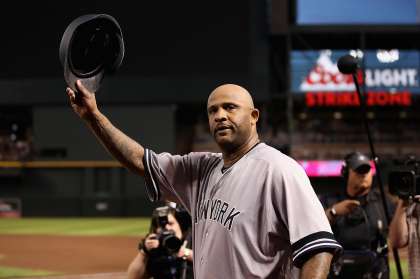 Last night, C.C. Sabathia joined Randy Johnson and Steve Carlton as the only lefty pitchers in MLB history to have 3,000 strikeouts in their careers. Sabathia also joined an elite group of what is now 17 pitchers to ever reach the milestone. The other 16 members of the "3,000 Strikeout Club" in descending order of total career strikeouts are:
Nolan Ryan (5,714)
Randy Johnson (4,875)
Roger Clemens (4,672)
Steve Carlton (4,136)
Bert Blyleven (3,701)
Tom Seaver (3,640)
Don Sutton (3,574)
Gaylord Perry (3,534)
Walter Johnson (3,508)
Greg Maddux (3,371)
Phil Niekro (3,342)
Fergie Jenkins (3,192)
Pedro Martinez (3,154)
Bob Gibson (3,117)
Curt Schilling (3,116)
John Smoltz (3,084)
This legendary list of players now begs the question of "Is C.C. Sabathia a Hall of Famer?". In my opinion, yes he is. Of the other 16 members of the "3,000 Strikeout Club", 14 of them are in the Hall of Fame. The two that aren't, are Roger Clemens and Curt Schilling. Clemens is obviously not in due to his connection to steroids and PEDs during his career, and I believe Schilling is not in due to his poor relationship with the voters of the Hall of Fame as well as his outspoken political views. I certainly believe that Schilling is a Hall of Famer, as he has over 3,000 strikeouts in his career, has won three World Series titles, and is one of the best postseason pitchers of all-time.
When you compare C.C. Sabathia to the other 16 players that have collected 3,000 strikeouts, I do believe that he is a Hall of Famer because not only is he in this elite group of all-time pitchers, but he has also has numerous accolades throughout his years in the majors. C.C. has won a Cy Young Award (also finishing in the top 5 for Cy Young voting 5 times total), won a World Series, been an All-Star 6 times, won ALCS MVP, and will very likely finish his career with over 250 wins as he currently has 247.
Sidenote: It is absolutely astonishing that Nolan Ryan has almost 1,000 more strikeouts than anyone that has ever played the game before; that dude is amazing.