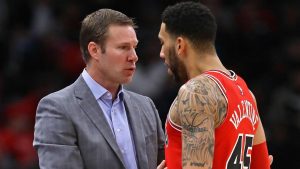 In the modern-NBA, if a team can't sell their fanbase on being a legitimate championship contender, they must be able to sell something else: hope. The hope that in the near future, things will be what the fans are asking for. The first fall guy when things go wrong is typically the coach – there were nine head coaching changes just this offseason. Nine. We also already saw one coach get the boot, with Ty Lue being fired by the Cavs Sunday. In the NBA right now, only seven head coaches are coaching in their sixth full season or more, with only three hired before this decade: Rick Carlisle, Erik Spoelstra and Gregg Popovich. With as much turnover at the position, what coaches are seemingly on the hot seat already, or might be in the very near future?
Tom Thibodeau, Minnesota Timberwolves
This one is obvious, right? Thibodeau is one of just two head coaches that also resides as the team president as well, joining Gregg Popovich. They are the only two that man both the coaching and the front office, giving them not only double the power, but double the potential blame if things go south. (Disclaimer: Things are way south.) The handling of the Jimmy Butler trade demand by Thibodeau was just the tip of the iceberg for his problems right now. The real issue is he refuses to evolve his playing style and team building. Minnesota has a unicorn in Karl Anthony-Towns that Thibs has surrounded with his former Bulls players and players who prefer iso-ball. That isn't going to cut it in today's pace-and-space revolution, as seen by their inconsistent start. With all the uncertainty surrounding the team, cutting bait with Thibs might make the most sense for the team's ownership.
Scott Brooks, Washington Wizards
Dysfunction and chemistry issues has plagued the Wizards for what seems like years. Their great idea to fix that this season? Sign Dwight Howard, the guy who has been chased out of his last three stops. For Brooks, this is year three in Washington and they seem like the same team as when he got there. The core of the team isn't getting any younger, and with Brooks inefficiency to get through to them showing, when is the time to make a move? The same thing happened with Brooks in Oklahoma City, where the team stagnated the last few seasons before Brooks was let go. With the Wizards, ownership might want to take a look at the front office along with the coach. General manager Ernie Grunfield is in the nation's capital for season fifteen this year, having made the playoffs eight times with four first round exits and never making it past the second round. With John Wall and Bradley Beal in their primes at 28 and 25, respectively, will the organization decide to make change before it's too late?
Billy Donovan, Oklahoma City Thunder
Scott Brooks' successor in OKC, Billy Donovan, might be running out of time as well. Since making the jump to the NBA from Florida, Donovan has had to deal with a lot of roster turnover and inconsistent results from roster moves. The big moves are obvious: they lost Kevin Durant, traded Serge Ibaka for Victor Oladipo, then traded Oladipo for Paul George and somehow convinced George to resign for at least three more seasons. The smaller moves, while less obvious, were supposed to fill out the fringes of the roster but aren't panning out too well. What's left is a team that can't shoot from three as consistently as needed in today's league and Russell Westbrook being Russell Westbrook playing hero ball. Donovan has also struggled to get on the same page as Westbrook, leading the offense to be more of whatever Westbrook wants and less of what Donovan wants. This season was supposed to Westbrook and George taking the Thunder back to true contender status. However, the early struggles are concerning, especially when Sam Presti has so little things he can change after all the roster turnover, except maybe his coach.
Fred Hoiberg, Chicago Bulls 
Fred Hoiberg's tenure in Chicago has been… interesting to say the least. Barring a massive turn of events, Hoiberg making it through his final two years on his contract, much less getting an extension after, seems highly unlikely. He hasn't received much help to build up his status from the front office as he in came to the team with players that didn't mesh well with his ideas, they made lackluster free agent moves, he was forced into trading Jimmy Butler away and is now coaching a young, over-priced core. (Wait doesn't this sound familiar?) For Hoiberg, there has already been times when it seemed as if management was questioning to pull the plug and move on to someone else. The team has declined each season since Hoiberg came in so he better hope Zach Lavine and Jabari Parker show huge signs of improvement since the front office inexplicably dumped $118 million total to the two of them this offseason. That's not a safe place to be sitting if you ask me.