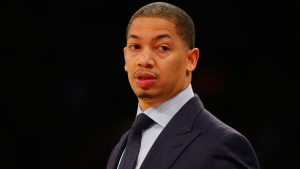 The Cleveland Cavaliers are struggling to adjust to losing LeBron, again. After a rough 0-6 start to the season, the organization has decided to make head coach Tyronn Lue the scapegoat and has fired him. This is the second straight season we have had an NBA head coach fired early in the season, as Earl Watson was fired by the Suns last year after just 3 games.
A poor start and quite frankly, a long season were to be expected in Cleveland after losing LeBron in the offseason. However, Ty Lue was not the problem with this team – the Cavs would be 0-6 with any coach right now. The problem with this team is the talent deficiency from a poorly run organization and questionable moves over the last few seasons. Ty Lue came in midseason and helped guide the team to the NBA Finals and WIN against a team with 73 wins. All he did after that was take the team back to two more NBA Finals in a row, dealing with losing the second-best player on the team for a terrible return and having half of the team changed at the deadline last year.
This season, Ty Lue has had to deal with one of, if not the worst roster in the league and how to play without one of the best players the league has ever seen. He was given 11 days to figure it out before being fired. Assistant coach Larry Drew should be the replacement and it's hard to imagine him having any success for the rest of the season.