Last week we hit on 83% of our picks, but there's still room for improvement. This week will feature more money lines and an upset no one has on their radar.
Carolina Panthers (+8.5) @ New Orleans Saints (-8.5) O/U 47
My Pick: New Orleans ML & O 47
This game has too many red flags. If you don't know by now, allow me to inform you; Division games are dangerous territory in the betting game. The teams, notoriously play each other tough regardless of where each team ranks in the standings, and when a spread is over 7 points it's what I call a set up game or trap. With all that being said, both these defenses deserve to be respected. This game could easily go back and forth all night, but you have to take Brees and the Saints on this one but not on the spread.
Score Prediction: Panthers 20 Saints 28
Denver Broncos (+4) @ Buffalo Bills (-4) O/U 37.5
My Pick: Buffalo (-4) & O 37.5
Buffalo has control of their own fate regarding their playoff hope. They have a comfortable lead in the wild card race and at 7-3 they are off to their best start since 1999. The counterpart, Denver, is coming off a game where they almost upset Minnesota and dominated them in the entire first half. Personally I'm staying away from this game, but if you're looking to bet it, Buffalo with the points isn't a bad choice.
Score Prediction: Broncos 21 Bills 27
Detroit Lions (-3.5) @ Washington Redskins (+3.5) O/U 42.5
My Pick: Detroit ML & O 42.5
Last week I was ready to bet the house on the under in Detroit's game against Dallas. By the end of the first half I could already tell I underestimated the ability of their backup QB, Jeff Driskel. The Lions offense seems to be moving the ball just as well as they were when Stafford was playing. As for the Redskins, Dwayne Haskins looked terrible until they entered garbage time, and Detroit hasn't been a team that jumps out to a big lead much at all since Patricia took over. Expect Detroit to win but do yourself a favor and don't take the points.
Score Prediction: Lions 24 Redskins 21
Miami Dolphins (+11) @ Cleveland Browns (-11) O/U 45.5
My Pick: Cleveland (-11) & O 45.5
Last season, Cleveland started 2-6-1 before going on a run that finished out their season 7-8-1. Now they're coming off a two-game win streak over Buffalo and Pittsburgh, and they get an opportunity to rip Miami's porous defense to shreds this Sunday. Expect this to be an ego boost of a game for Cleveland as they'll extend their streak to three games and keep their playoff hopes alive.
Score Prediction: Dolphins 14 Browns 38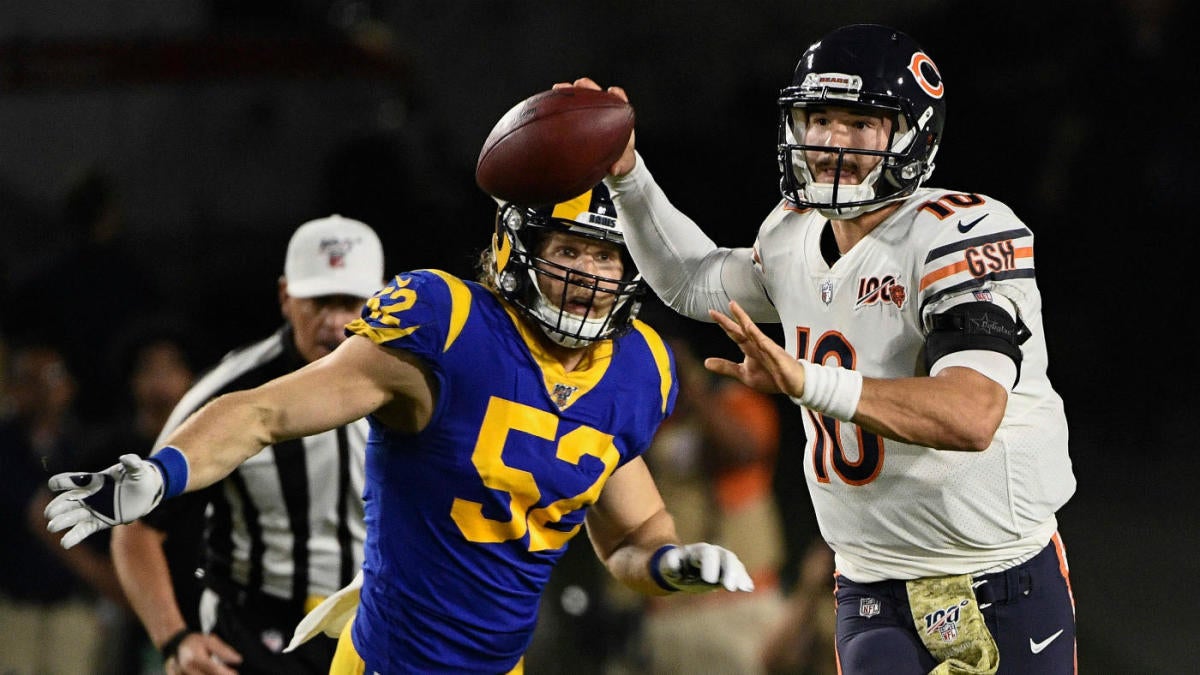 New York Giants (+6.5) @ Chicago Bears (-6.5) O/U 39.5
My Pick: Chicago (-6.5)
Mitch Trubisky was a full participant at practice on Wednesday, indicating he'll be a full go this Sunday for the Bears matchup with the Giants. Which means there's no excuses this weekend for Trubisky. The Giants come in ranked in the bottom 10 of the league against the pass, leaving the door open for a bounce back game for Trubisky. Had this game been in New York I'd be persuaded, but Chicago's defense should lock New York up at Soldier Field.
Score Prediction: Giants 17 Bears 24
Oakland Raiders (-3) @ New York Jets (+3) O/U 46.5
My Pick: Oakland (-3) & O 46.5
Jon Gruden's Raiders are surging at the perfect time, and if there's one thing I can expect from Gruden, is that he has no problem letting Derek Carr loose. After only putting up 17 points against Cincinnati, I fully expect the Raiders to light up the scoreboard in New York, and with Sam Darnold seemingly back in rhythm, this should be a high scoring affair.
Score Prediction: Raiders 31 Jets 23
Pittsburgh Steelers (-6.5) @ Cincinnati Bengals (+6.5) O/U 38.5
My Pick: Pittsburgh (-6.5)
Take Pittsburgh. That's pretty much it. Vegas is looking too heavily into both of these matchups last week and allowing this to be a one possession spread. This is going to be my lock pick of the week. The Steelers, with their playoff hopes on the line are in a must win matchup and should roll over the horrendous Bengals.
Score Prediction: Steelers 30 Bengals 10
Seattle Seahawks (+1.5) @ Philadelphia Eagles (-1.5) O/U 47.5
My Pick: Seattle ML
One of the most confusing things this season has been keeping track of the pay from the Philadelphia Eagles. The same team that went into Lambeau and defeated the Packers, and rolled over the Bills, but also got blown out by the Cowboys and looked like a bottom feeder, comes into this game against the Seahawks favored. It almost seems like this game is set up for Philly to win, but Russell Wilson has an MVP campaign to finish, and the next stop is in Philly.
Score Prediction: Seahawks 27 Eagles 17
Tampa Bay Buccaneers (+4) @ Atlanta Falcons (-4) O/U 51
My Pick: Atlanta (-4) & O 51
Atlanta has been on a roll these past two weeks and they've done it without their offense providing the firepower. Their defense has allowed a total of 12 points over the last two matchups with New Orleans and Carolina, and now they get to face the last remaining divisional foe in Tampa Bay. There's no reason not to keep riding the Falcons bandwagon.

Prediction: Buccaneers 20 Falcons 34
Jacksonville Jaguars (+3.5) @ Tennessee Titans (-3.5) O/U 41.5
My Pick: Jacksonville ML
Last week I missed badly on Jacksonville, after they got blown out by Indianapolis, but I'm not ready to give up on the Nick Foles bandwagon. This is his time of year to shine and last week the offense was just plain stagnant. Expect him to bounce back and get the road upset in Tennessee.
Score Prediction: Jaguars 26 Tennessee 20
Dallas Cowboys (+6.5) @ New England Patriots (-6.5) O/U 45
My Pick: Dallas (+6.5)
Dak Prescott currently has the second highest Quarterback rating in the NFL, he's thrown for well over 800 yards in the past two weeks alone, and if you have him on your fantasy team then you've been reaping the benefits. This trend will not end in New England. Expect Dak to show up and all eyes of the Patriots D on Zeke Elliott. With Brady popping up on the injury report this week (Questionable: Elbow), it only makes this outcome more likely. If Brady is unable to go, you've got to like the Cowboys chances this week. Either way, I like the over in this one.
Score Prediction: Cowboys 27 Patriots 33
Green Bay Packers (+3) @ San Francisco 49ers (-3) O/U 47.5
My Pick: Green Bay (+3) & O 47.5
This game is going to come down to what Aaron Rodgers we get this week. Will it be the same one that lit up Oakland for 5 Touchdowns and over 400 yards? Or will his trip out west be similar to the catastrophe when he faced the Chargers a couple weeks ago? While all signs point towards a tough matchup, I'm going to go out on a limb and take Green Bay with the spread in a shootout.
Score Prediction: Packers 27 49ers 28
Baltimore Ravens (-3) @ Los Angeles Rams (+3) O/U 46.5
My Pick: Rams (+3) O 46.5
I hope you didn't expect me to go the entire article without a bold pick. At 6-4 and three potential wildcard teams at 8 wins already, the Rams are in win-out mode. Unfortunately for them, they have to face arguably the lead MVP candidate in Lamar Jackson. Baltimore should continue dominating on offense, and Marcus Peters should continue his hot streak against his former team. Something just doesn't feel right about the Rams dropping another one, so I'm taking them on the upset this week, but play it safe and take the points.
Score Prediction: Rams 34 Ravens 31