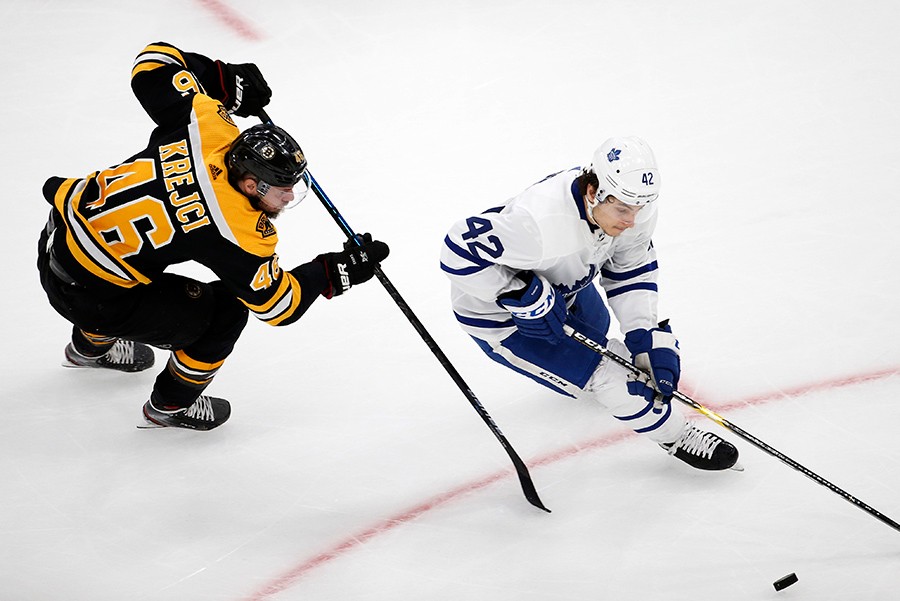 It seems we have been blessed by the Hockey Gods so far these playoffs. In the opening round, we have seen an upset in virtually every match up and now we are blessed with three game 7's.
The Lightning and Penguins went down in 4. Three of the four division leaders went down already, but NOTHING tops a game 7.
Within the next 48 hours, we get the pleasure of watching three of them. Toronto/Boston, Vegas/San Jose Tuesday night, and Carolina/Washington Wednesday night.
Here are my predictions…
In probably the most hyped up for this game, Toronto takes on Boston in a Game 7 in the first round for the second year in a row. What is better than that?
Last year, Toronto went into Boston and Anderson got tossed around, allowing 6 goals and ultimately falling to the Bruins 7-4.
Will this year be different?
In my opinion it will be different. The same team will win, but I think this series is going to be decided in overtime. Such as the game Monday night, that pitted the Stars against the Predators, this will be a very defensive game. I think it will be a 3-2 Bruins win with both goalies standing on their head most of the night. Give me DeBrusk for the overtime winner.
Vegas against San Jose has not get nearly the attention as I believe it deserves. This is mainly due to the fact that they play at about 10pm ET every night, but this has been a ridiculous series and I expect nothing short of that Tuesday night.
What it will ultimately come down to is which Martin Jones will we see? The one that was amazing in game 5 and stopped 58 of 59 in Game 6 or the one that couldn't stop a thing between Game 2 and 4.
In the end, I think Vegas has far too much firepower to handle in their forwards. Pacioretty, Statsny, Stone, Karlsson, Smith, Tuch and Marchessault will show how dominant they can be.
I see a 5-3 score in favor of the Knights.
This one surprised me the most. The Hurricanes will take on the Capitals in Washington Wednesday night in a game I never expected to see.
Watching Game 1 and 2, I was thinking hey at least the Canes made the playoffs for their fans sake. I thought this series would go to 5 or 6 at the most. Though, once the series shifted back to Carolina, they got their legs back underneath them and the vibe around the series totally changed.
No away team has won a game yet in this series, which doesn't favor the Hurricanes and I don't really see that changing in this one.
The Capitals are far too familiar with playoff hockey, especially with just winning the Cup last year. The Hurricanes are far from that, with this year clinching a playoff spot for the first time since 2009, the longest drought in the NHL.
I have the Capitals taking this game easily, 4-1 on their home ice with Ovechkin scoring 2.
This is going to be fun to watch.